Pat McCormack and Ben Whittaker guaranteed themselves at least Olympic bronze medals on a fantastic day seven for GB Boxing at Tokyo 2020.
Both boxers won their quarter-final bouts as Caroline Dubois also won her last 16 clash to move within one bout of clinching a medal of her own.
Number one seed McCormack faced a physical encounter as he took on Bobo-Usmon Baturov of Uzbekistan.
The welterweight (Under 69kg) was consistently the better man at long range and picked some eye-catching shots to edge the opening round 3-2.
He stepped up his performance in the second round with some excellent work on the counter and was duly rewarded with a clean sweep on the judges' scorecards.
The Birtley boxer suffered a cut to the eye in the third round after a clash of heads but nevertheless kept his composure to win the round 3-2 and secure and overall 4-1 verdict.
He saluted victory by raising his arms in triumph at his GB team-mates and support staff watching in the stands.
The North Easterner will now face Ireland's Aidan Walsh at the semi-final stage on Sunday at 12.5pm (4.50am UK time).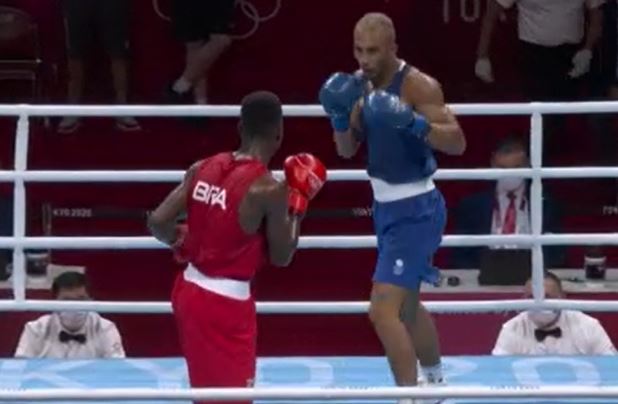 For Firewalker's Whittaker, his light heavyweight (Under 81kg) bout against Brazil's Keno Machado was in the balance until the very end.
The West Midlander gave himself an early boost by taking the opening round 3-2, but his opponent hit back in the second to win by the same margin and leave the contest up for grabs.
The third round remained hard-fought but Whittaker managed to land a couple of key blows to sway the judges in his favour 3-2, meaning an overall 3-2 victory.
Whittaker roared his delight at the decision and said after his win: "I want to go back with a gold medal and I want to become the Mayor of Wolverhampton with one of those chains around my neck!
"I said earlier in the week that a bronze and silver mean nothing, and I still truly mean that, but when the decision came (to win the bronze), I let out a bit of a roar and I did my celebration. It hit me what I'd done.
"All the times I've been in the gym and boxed with other Olympians and they tell you their story and you think they are lying (about what it means), but when it hits you it's a weird, weird feeling."
Whittaker will now take on ROC boxer Imam Khataev ROC on Sunday at 12.50pm (4.50am UK time).
For Dubois, it was another remarkable step on an incredible journey for the 20-year-old, who was still boxing in (and winning) the England Boxing National Youth Championships in 2019.
Taking on the USA's Rashida Ellis in the last 16, the lightweight (Under 60kg) belied her lack of experience with another assured display.
The Repton boxer took the opening round on a 3-2 split, but it was her 4-1 verdict in the second round that was to ultimately prove decisive.
Ellis came back hard in the third round to reverse the second round scores, but the referee's deduction of a point for the American saw Dubois prevail 3-0, with the other two scorecards being tied at 28-28.
She now advances to face Thailand's Sudaporn Seesondee on Tuesday at 12.50pm (4.50am UK time).
(Kristian von Sponneck)
Subscribe to our new YouTube Channel starting soon with the latest boxing news and results, gossip and information from around the world. Just click the video image link below:
For the list of boxing events we will cover live with and with unofficial scorecard (main event), click the following link > Live Boxing Results & Events<